Communications expert Melissa Marshall will visit the University of Iowa to lead three workshops for faculty, staff, postdocs, and students, on February 12, 2020.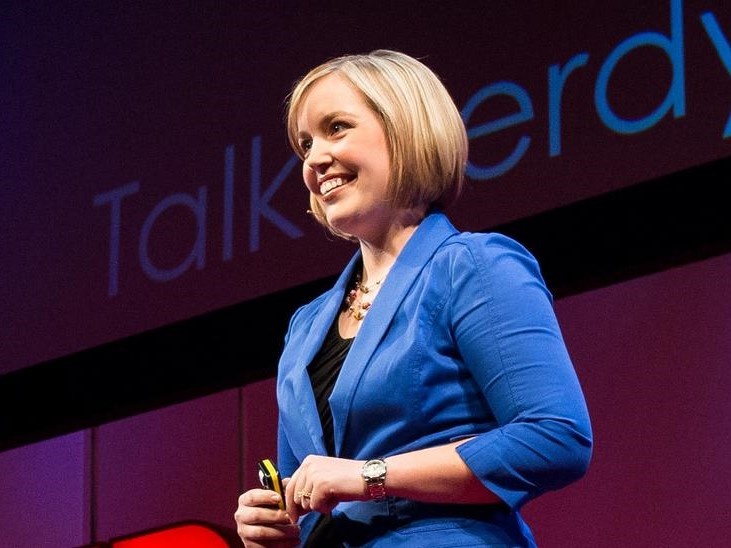 A former faculty member with the Department of Communication Arts and Sciences at Penn State University, Marshall has spent the last decade presenting at Fortune 100 corporations, institutions and universities, to help scientists and engineers transform their presentation skills.
Her TED talk, "Talk Nerdy to Me," has been watched by more than two million people, and counting.
Registration for Marshall's workshops is free but required. Details about each session are below.
Present Your Science: Transforming Technical Talks
This half-day presentation covers the full gamut: content strategy, slide design, and presentation delivery. With a dynamic combination of lecture, discussion, video analysis, and exercises, this workshop will truly transform how you present your work.
When: February 12, 8:30am – 12:00pm
Where: Hilton Garden Inn, 328 S. Clinton Street
Register to attend.
Pitch Your Research in 60 Seconds
Networking events, conferences, and presentation introductions are just a few examples of scenarios in which it is useful to have a concise, short summary of your research. This interactive and hands-on session will teach you a formula for developing a short pitch about your work to improve conversation and collaboration around your ideas. Expect to leave the session with a fully crafted, revised, and practiced pitch.
When: February 12, 1:30pm - 3:00pm
Where: Hilton Garden Inn, 328 S. Clinton Street
Register to attend.
Be Better than Bullets: Transforming Slide Design
Using a slide design strategy proven to make technical presentations more understandable, memorable, and persuasive, your team will learn to create better presentation slides using an engaging, assertion-evidence design structure. Through a series of exercises and critiques using their own material, participants will learn the theory behind the structure and how to make immediate improvements.
When: February 12, 7:00 - 8:30pm
Where: 1505 Seamans Center
Target audience: Graduate students and Postdocs
Register to attend.
Marshall's visit is sponsored by the University of Iowa Office of the Vice President for Research, College of Public Health, Graduate College, College of Engineering, IIHR – Hydroscience & Engineering, and Department of Civil and Environmental Engineering.