The University of Iowa Research Foundation (UIRF) is launching a series of free online courses this fall to walk faculty, post-docs, and staff through the process of translating research and scholarship into commercial products and services.  
The four, live, real-time 90-minute sessions will be offered via Zoom from 3-4:30 p.m. every other month, with registration through the UI Self Service My Training portal. Participants may attend all or just some of the courses, which include:
Thursday, Oct. 21: What is an invention disclosure?

(course ID #INVENT) This class provides an overview of the disclosure process, including when and how to submit an invention disclosure.

Thursday, Dec. 16: What is IP?

(course ID #WHATIP) This class provides an introduction on intellectual property (IP), with a focus on patents and copyrights.  Learn about patentability, inventorship, and ownership of IP.

Thursday, Feb. 17: What is licensing?

(course ID #WHALIC) This class provides an introduction on various agreements that grant rights to intellectual property and could particularly benefit those interested in entrepreneurship.

Thursday, April 21: What is commercialization?

(course ID #WHACOM) This class provides an overview of the commercialization process, including creating an IP and marketing strategy.
UIRF Associate Director Mihaela D. Bojin said the courses will provide introductory information about IP protection and research commercialization. But she said they will also benefit those who have already considered or launched startups, filed patents, or otherwise worked to develop their intellectual property.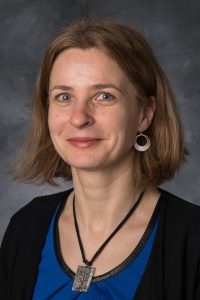 "Commercialization is the best way for faculty and staff to ensure their discoveries can directly and tangibly benefit the public," Bojin said. "The Research Foundation provides the bridge between the work done on labs and other research spaces and the medical devices, technological solutions, and novel services that spin out of those efforts to save and improve lives."
Undergraduate students may also attend the courses although they will need to register outside of the UI employee portal. Additionally, Bojin said the courses can be provided individually or as a series to departments and colleges upon request.
The courses are just the latest in a series of offerings by UIRF to help inform campus about resources for IP protection and development. UIRF also offers weekly Inventor Office Hours from 4-5 p.m. each Tuesday via Zoom to answer questions, and throughout the year it gives presentations and holds entrepreneurship workshops to guide faculty and staff along the path of commercialization.
For more information about the courses and other engagement opportunities with UIRF, contact UIRF Associate Director Mihaela D. Bojin at mihaela-bojin@uiowa.edu.
Part of the Office of the Vice President for Research, the UI Research Foundation helps faculty and staff manage intellectual property arising from their research and scholarship and transform their discoveries into inventions and commercial ventures. More at https://uirf.research.uiowa.edu/.