Thursday, January 6, 2022
The Office of the Vice President for Research is sponsoring five research communications training opportunities during the spring 2022 semester led by nationally recognized experts in the field of research communication.
"Effective communication about science, research, and scholarship, and the significance of this work, is critically important to sustaining funding, attracting collaborators, and disseminating knowledge to various public audiences," said Marty Scholtz, vice president for research.
Alan Alda Center for Communicating Science
The Alan Alda Center for Communicating Science at Stony Brook University, which has trained over 15,000 people to date using improvisational techniques in the Alan Alda Method, will offer the first two virtual workshop opportunities in February.
The Alan Alda team combines audience-centered messaging tools with group exercises to help researchers speak about their science in a way that builds trust and inspires their listeners. After the session, participants will be able to employ strategies that make messages and information memorable, learn how to adapt messaging to aid the audience's comprehension, and apply strategic communication strategies to interact with audiences in meaningful ways.
The Essentials Workshop will be held on February 4, 9:00am – Noon. This live, three-hour session will demonstrate effective communication strategies and techniques that invite others to explore science and its significance. This virtual, fully-immersive experience, which includes one-on-one exercises, is limited to 16 faculty participants. Faculty members may register by contacting leslie-revaux@uiowa.edu.
The Alan Alda Center will also host the Creating Connections workshop, February 11, 10:00am - Noon, which is designed for large groups of researchers. Participants in this workshop will receive an overview of effective science communication strategies, including a few improvisational theater exercises that make the Alda Center's method unique. The program offers participants communication strategies that effectively engage others in complex or controversial conversations when emotions can run high. Registration for the Creating Connections workshop is open for faculty, staff, postdoctoral researchers, and graduate students. The workshop is capped at 100 participants. Register for the Creating Connections workshop on Eventbrite.
Melissa Marshall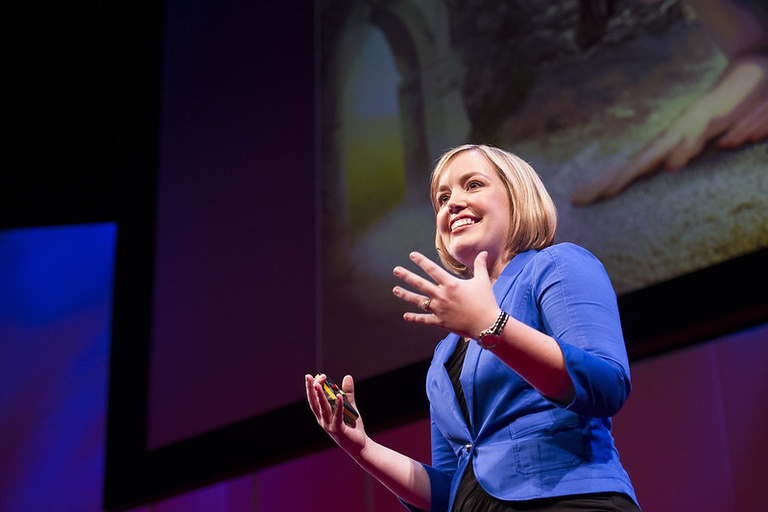 Popular TED Speaker Melissa Marshall will offer a "Research Communications Master Class" via three virtual workshops in Spring 2022. For almost a decade, she's traveled around the world to work with Fortune 100 corporations, institutions and universities, teaching the proven strategies she's mastered through her consulting work and during her time as a faculty member with the Department of Communication Arts & Sciences at Penn State University.
Marshall's workshops are open to all University of Iowa faculty, staff, postdoctoral researchers, and students. Attendees will receive the practical skills and natural confidence they need to immediately shift their "information dump"-style presentations into ones that are meaningful, engaging, and inspire people to take action.
The schedule for Melissa Marshall's Research Communications Masters Class is:
March 29, 5:00 - 6:30pm: Tell a Clear Technical Story
April 5, 6:00 - 7:30pm: Transforming Slide Design
April 12, 5:00 - 6:30pm: Short Storytelling: Elevator Pitches
Participants are not required to attend every session in series. Register on Eventbrite.
Individuals with disabilities are encouraged to attend all University of Iowa-sponsored events. If you are a person with a disability who requires a reasonable accommodation in order to participate in this program, please contact Leslie Revaux in advance at leslie-revaux@uiowa.edu.