Friday, December 30, 2022
The Office of the Vice President for Research (OVPR) has welcomed several staff members throughout the fall to fill vacated positions and expand the capacity of the Research Development Office (RDO) and human resources teams.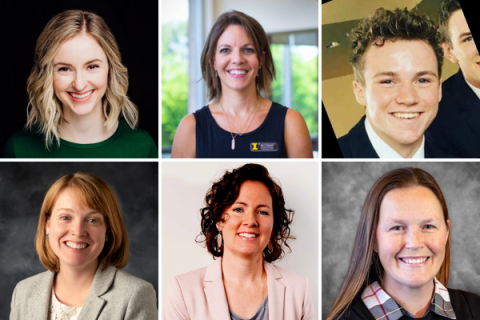 "The new members of our team fill essential roles on our team," said Marty Scholtz, vice president for research. "Their skills and talents will sustain and grow support for researchers across our campus."
Take a moment to get to know the recent additions to the OVPR roster:
Finance and Operations
Lauren Galliart was hired as an administrative services coordinator for OVPR in October. She previously spent 5 years working at RBC Wealth Management in Cedar Rapids. Galliart graduated from the University of Northern Iowa with a BA in theatre and spent three years pursuing acting professionally in New York City.
Kristen Wolf joined OVPR as budget officer. Wolf has worked at the University of Iowa for 14 years, spending the past 11 years in the College of Liberal Arts and Sciences on the finance team in the dean's office, and working in internal audit prior to that. She received her Master of Accountancy and a Bachelor of Business Administration in accounting from the Tippie College of Business. Wolf will take on responsibilities managed by outgoing budget officer Joe Elder, who is preparing for his retirement in spring 2023.
Communications
Casey Westlake was hired as communications manager in OVPR in September. Westlake has worked at the UI since 2013, with previous roles in the Pentacrest Museums and the Office of Governmental Relations, among others. She received her bachelor's degrees from Ohio University and a master's in creative and media writing from Swansea University.
Westlake fills a role previously held by Leslie Revaux. Revaux was promoted to director of strategic communications in June, after Stephen Pradarelli left the university to lead communications at the Thich Nhat Hanh Foundation. Revaux has worked for OVPR since 2008, working to build the office's communications efforts over the past 11 years. She received a master's in strategic communication, and bachelor's degree in political science, from the University of Iowa.
Human Resources
In August Kelli Haught was hired as talent acquisition specialist for OVPR and its reporting units, including the State Hygienic Lab, to help expand capacity for recruiting new staff hires in critical roles within the research enterprise. Before transitioning to a human resources role, Haught spent 20 years in hospitality, living in Washington, DC, Baltimore, and Scottsdale, Arizona, joining the UI as director of University Catering in 2011. Most recently, she worked as the operations manager for Catlett Hall Market Place, opening the facility in 2017. Haught graduated from the UI with a degree in political science.
Research Development Office
Jack O'Halloran recently joined the RDO as a research support coordinator. He graduated from Tippie College of Business in spring 2021 with a BBA in human resources. Following graduation, O'Halloran returned to his hometown of Des Moines and began his career with Krause Group, working on finance and recruitment teams with their trucking carrier, Solar Transport. O'Halloran will provide coordination for RDO activities, taking on a portion of the previous duties of research support coordinator Cheryl Ridgeway, who retired earlier this year.
Jill Wiley joined the RDO as assistant director from the College of Public Health Research Office, where she served as the research development coordinator for four years. Before that, Wiley worked in research and clinical laboratories here at the UI and at the American Red Cross, National Testing Laboratory. She received her Bachelor of Science in biology from Truman State University. Wiley's hiring will allow the RDO to strengthen existing programs and build new services, including competitive and strategic intelligence reports, that help researchers succeed in their pursuit of external funding.
Photo: Left to right, top row- Lauren Galliart, Kelli Haught, Jack O'Halloran; bottom row- Casey Westlake, Jill Wiley, Kristen Wolf.