The Office of the State Archaeologist (OSA), a unit of the University of Iowa Office of the Vice President for Research, was recently selected by the Society for American Archaeology for the Excellence in Public Archaeology Programming Award.
Given once annually, the award recognizes exemplary public engagement efforts and best practices in archaeology outreach and education. This is the first time that OSA has been recognized with the award. The Society for American Archaeology has nearly 7,000 members internationally.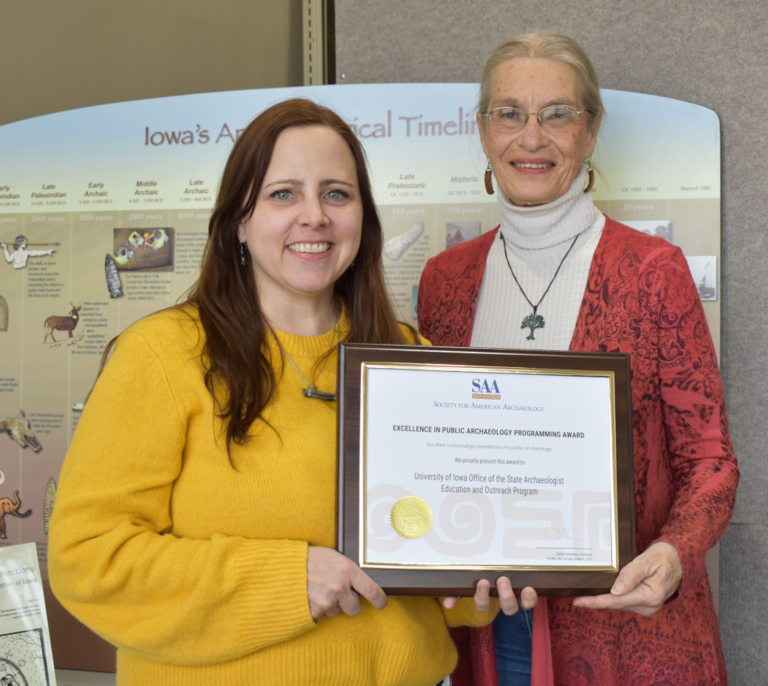 OSA's Education and Outreach Program, which engages with 5,200 Iowans each year, earned the recognition. Elizabeth Reetz leads the program as the director of strategic initiatives, with support from Cherie Haury-Artz, education assistant. Reetz earned her master's degree in landscape archaeology from the National University of Ireland in 2003 and completed her master's in environmental education from the University of Minnesota Duluth in 2013. Haury-Artz has a bachelor's in anthropology from State University of New York at Potsdam and a master's in anthropology from the University of Kansas, Lawrence.
"Under Elizabeth's leadership, the Education and Outreach Program at OSA has enjoyed tremendous success engaging with the public about Iowa archaeology," said John Doershuk, director of the OSA. "I credit this success, in part, to Elizabeth's intentional introduction of pedagogical practices not typically applied by archaeologists."
The team collaborates with educators, agencies, cultural and historical organizations, naturalists, the public, and Tribes descendant to Iowa to research and develop programs, events, exhibitions and interpretive resources. From hands-on presentations in K-12 classrooms, to booths at community events, to offering educational discovery trunks for Iowa's teachers, the program reaches out to Iowans from many walks of life and cultural backgrounds.
"Our team designs high-impact programming with our audiences and pedagogical-based best practices in mind," said Reetz.  "We're also invested in sharing our strategic methodologies and successes with colleagues in our field, in an effort to shift archaeologists away from 'checking the box for public outreach' towards professionalizing the field of archaeology education."
At the start of the pandemic, Reetz and her team pivoted to quickly adapt to offering virtual and digital outreach opportunities. One example is a collaboration with the UI Stanley Museum of Art to offer digital programming to senior living communities, audiences that were particularly isolated due to COVID-19.
The team is also integrating archaeology and environmental education to expand its audiences and partnerships. This focus led to the development of a one-day archaeology curriculum in partnership with UI Recreational Services for UI's School of the Wild, a week-long outdoor learning experience for Iowa City sixth graders. This model will be replicated at wildlife camps in state parks across Iowa.
"Through a variety of educational programs and resources that reach Iowans across our state, from kindergarten through residential senior living communities, these programs convey the importance of historic preservation efforts, and help preserve Iowa's archaeological heritage for future generations," said Doershuk.
Reetz accepted the Excellence in Public Archaeology Programming Award at the Society for American Archaeology's Annual Meeting on March 31, 2023, in Portland, Oregon.
Founded in 1959, the OSA is a nationally recognized research laboratory, library and repository, and public facility. It was established in the Iowa Code to provide for the location, recovery, restoration and preservation of archaeological materials for the state. It also coordinates closely with other state agencies.