Wednesday, August 23, 2023
Now in its ninth year, the University of Iowa Creative Matters Lecture Series will return with a trio of events showcasing ground-breaking artists and performers in conversation with UI faculty members, inviting participants to draw inspiration from the stories behind the work. Hancher's 2023-24 season will feature all eight artists participating in Creative Matters conversations. The talks are co-sponsored by the Office of the Vice President for Research and Hancher. 
"We are excited to partner with Hancher to showcase the range of talent that will grace their stage this academic year," said Marty Scholtz, vice president for research. "While this year's Creative Matters will continue to highlight the creative process that is core to the human experience, we will also connect this artistry to scholarship happening here on campus."
The Creative Matters lecture series, launched in Fall 2015, seeks to demonstrate that creativity and innovation are not only at the core of all research and discovery, but also central to our human experience. Our lineup of speakers includes artists, thinkers, builders, and doers who challenge conventional thinking about creativity, science, and artistic expression, and borrow from a range of influences and disciplines in their work.
Detailed information is available at https://creativematters.research.uiowa.edu/. All lectures are free and open to the public, but RSVPs are encouraged.
Attacca Quartet and Caroline Shaw in conversation with Elizabeth Oakes
Tuesday, Sept. 19, 2023
6:00–7:00 PM
Voxman Recital Hall
Co-sponsored by Hancher
Please complete the form to RSVP.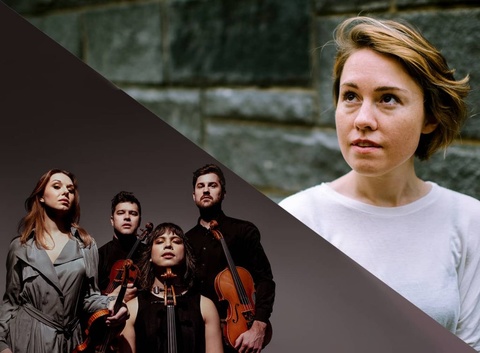 The members of the acclaimed Attacca Quartet—described by The New York Times as "exuberant, funky, and ... exactingly nuanced"—are passionate advocates of contemporary repertoire and new work—including that of composer and vocalist Caroline Shaw.
Caroline Shaw is a musician who moves among roles, genres, and mediums, trying to imagine a world of sound that has never been heard before but has always existed. She works often in collaboration with others, as producer, composer, violinist, and vocalist. Caroline is the recipient of the 2013 Pulitzer Prize in Music, several Grammy awards, an honorary doctorate from Yale, and a Thomas J. Watson Fellowship. Her favorite color is yellow, and her favorite smell is rosemary.
Elizabeth Oakes, professor of instruction and chamber music in the UI School of Music, will join them on stage to discuss her creative process.
On Sunday, Sept. 17, at Hancher, Shaw and the Attaca Quartet will perform music from their 2022 album Evergreen, which, like their previous record, Orange, garnered a Grammy. 
Following the talk, the UI Symphony will play Shaw's Entr'acte during their concert at 7:30 p.m. the same evening in the Concert Hall at Voxman.
Attacca Quartet and Caroline Shaw at Hancher (Sept. 17)
UI Symphony Orchestra Concert (Sept. 19)
Andrew Schneider and Jecca Barry in conversation with Daniel Fine
Tuesday, Oct. 17, 2023
6:00–7:00 PM
Hancher's Stanley Café
Co-sponsored by Hancher
Please complete the form to RSVP.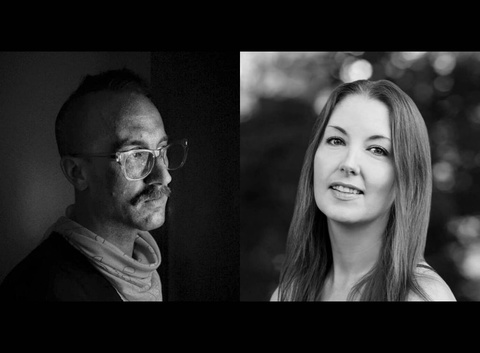 Andrew Schneider is mostly interested in how humans telling stories about ourselves to each other can make us better at being humans. And how much the second law of thermodynamics and grief have in common. He is an OBIE award-winning, Drama Desk nominated performer, writer, and interactive-electronics artist creating original works for theater, dance, sound, video, and installation since 2003. Based in Brooklyn, New York, Schneider creates and performs original performance works, builds interactive electronic art works and installations, and was a Wooster Group company member (video/performer) from 2007-2014.
Jecca Barry is an opera, theatre, film, and music producer, as well as a nonprofit arts leader. From 2012-2022, she served as Executive Director of the acclaimed production company Beth Morrison Projects (BMP) and was a Co-Director of New York's annual PROTOTYPE Festival from 2017-2022. Jecca has overseen the commissioning, development, production and touring of over 30 new theatre, music-theatre, and opera works, and has toured those works to over 40 national and 15 international venues.
Daniel Fine, associate professor of theatre and dance, will moderate this discussion that explores the possibilities of art's intersection with technology.  
N O W I S W H E N W E A R E (the stars), the remarkable immersive performance installation created by Schneider and produced by Barry, will be on display Wednesday-Saturday, Oct. 18-21, as part of Hancher's Infinite Dream festival.
N O W I S W H E N W E A R E (the stars) by Andrew Schneider at Hancher.
Reggie Wilson in conversation with Tara Bynum
Tuesday, Feb. 13, 2024
6:00–7:00 PM
Hancher's Stanley Café
Co-sponsored by Hancher
Please complete the form to RSVP.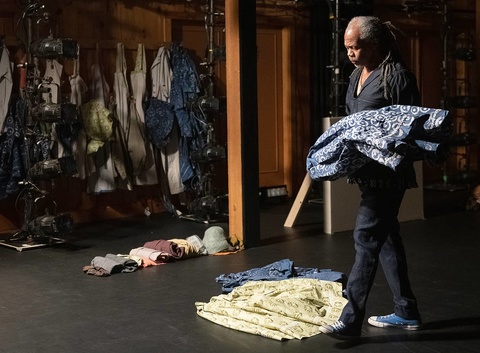 Reggie Wilson is the artistic director and choreographer of Fist and Heel Performance Group. He is  a graduate of New York University, Tisch School of the Arts (1988, Larry Rhodes, Chair) and is an inaugural Doris Duke Artist. He has studied composition and been mentored by Phyllis Lamhut and performed and toured with Ohad Naharin before forming Fist and Heel. He has lectured, taught and conducted extended workshops and community projects throughout the US, Africa, Europe, and the Caribbean. 
Reggie Wilson/Fist and Heel Performance Group will perform POWER, which considers how the Black Shaker communities in the early 1800s might have lived and worshiped, at Hancher on Friday and Saturday, Feb. 16 and 17.
Tara Bynum, assistant professor of English and African American Studies, will join Wilson on stage to discuss his creative process and historical influences.
Individuals with disabilities are encouraged to attend all University of Iowa-sponsored events. If you are a person with a disability who requires a reasonable accommodation to participate in this program, please contact Casey Westlake in advance at 319-467-0039.