Wednesday, December 21, 2016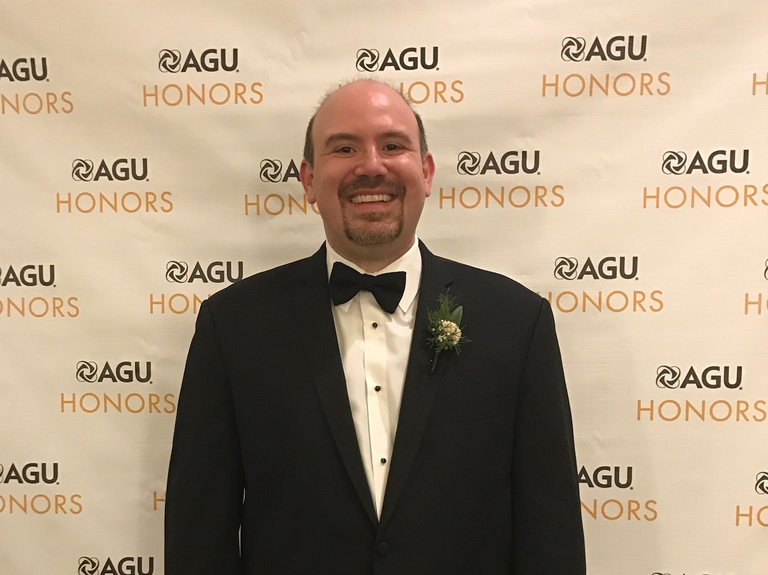 Thanking family, friends and colleagues, Gabriele Villarini, accepted the prestigious American Geophysical Union (AGU) James B. Macelwane Medal at an honors ceremony in San Francisco on Dec. 14.
The University of Iowa associate professor in civil and environmental engineering and IIHR-Hydroscience & Engineering associate director was one of only five individuals to receive the award which is given annually by the AGU in recognition of significant contributions to the geophysical sciences by an outstanding early career scientist.
When developing his "research elevator pitch" at the Office of the Vice President for Research and Economic Development's Communicating Ideas Workshop in 2014, Villarini described how the 2008 flood largely shaped his research interests while a graduate student at the UI.
In his acceptance speech, he extended warm words to UI faculty and graduate students though he saved some of his most poignant remarks for Iowa Flood Center (IFC) Director Witold Krajewski, who served as Villarini's Ph.D. advisor and now works with him as part of the IFC.
"I've been fortunate to work in the very supportive and very stimulating environment at the University of Iowa," said Villarini in his acceptance speech. "None of this would be possible without Witold Krajewski, my Ph.D. advisor. I will always be indebted to him for his continued support and encouragement. You are a mentor, a colleague and a lifelong friend."
Click above to view the video of Villarini's acceptance speech. Video provided by Gabriele Villarini. 
The Office of the Vice President for Research and Economic Development provides resources and support to researchers and scholars at the University of Iowa and to businesses across Iowa with the goal of forging new frontiers of discovery and innovation and promoting a culture of creativity that benefits the campus, the state, and the world. More at http://research.uiowa.edu, and on Twitter: @DaretoDiscover.
Photo credit: Amie Villarini